In September of 2009 the trio I was playing with at the time—Robertchez—played for the Slow Food Cape Cod Farm to Table Dinner at Cape Cod Organic Farm. It was a memorable night, and I wrote about it on the Real Food Advocate blog I was running at the time. A friend who attended wanted to revisit the story, so I am reposting here for your enjoyment.
A Wet, Windy, Wonderful CLASH/Slow Food Dinner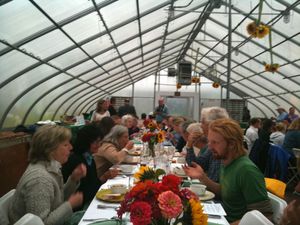 It was Plan B. For months Slow Food Cape Cod and the Cape Land and Sea Harvest festival planned a farm to table event at the new Cape Cod Organic Farm in Barnstable. If the weather was nice, we'd be out in the fields enjoying dinner under the autumn sky. In the case of inclement weather, there was Plan B, set up in the greenhouse. Mother Nature chose Plan B, absolute, no questions. In the midst of torrential downpours, high winds and streams of water leaking in here and there, a superb feast was held in the farm's greenhouse. 
Our group arrived early, as we were the entertainment for the evening (Robertchez- Cheryl Kain, Roe Osborn, Bert Jackson). We carried our gear in pouring rain across the flooded parking lot into the back of the greenhouse, where tents had been erected to give cursory protection to the chefs creating our dinner. Smoke swirled violently from the outdoor grills as it whipped about in the incessant wind. Staff with rain-drenched hair rushed between tents and their vehicles. It was amazing that anything could be cooked at all under these conditions. 
While guests were arriving we played jazz. The first course was an oyster bar featuring Les Hemmila from Barnstable Seafarms, Julie Winslow from Cape Coastal Farm (Pleasant Bay) and Laura Scheel from Out of the Blue Oyster Farm, Wellfleet. Truro Vineyards provided wines paired with each course and Todd Marcus shared some of his wonderful Cape Cod Beer.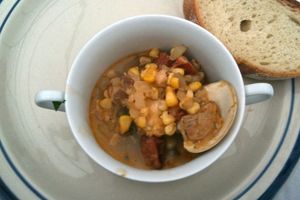 When everyone was seated we started the soup course, prepared by Joe Dunn from the Island Merchant in Hyannis. Featuring Native Corn, Tomato and Local Littleneck Stew with Cape Cod Organic Farm Fingerling Potatoes, Barnstable Seafarms Littlenecks and Portuguese Linguica. 
The pasta course was next, by Stephen Skelton from the Glass Onion in Falmouth. He created a handmade Fettuccini using Cape Cod Organic Farm Eggs, dressed with Hubbard Squash, Sugar Dumpling Squash, Acorn Squash, Red Kuri Squash and Sugar Pumpkin, all from Cape Cod Organics. It was tossed with Truro Vineyards Unoaked Chardonnay White Wine Herb Broth. This was a deceptively simple dish that had subtle flavors, especially the in the variety of textures and flavors in the squash. Everyone agreed. More please!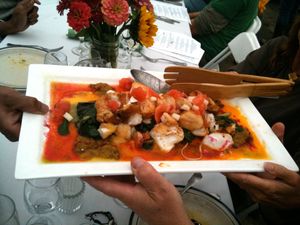 The fish course was prepared by Raina Stephanie, Seth Bateman and Liam Luttrell-Rowland of Terra Luna in Truro. The Fried Chatham Cod was served over five shades of Autumn (we identified chard, watermelon, and cloves of garlic) and finished with a Pink Finishing Salt. 
Next we moved on the chicken (at this point we were starting to wonder if we were going to make it through the whole dinner without exploding). Prepared by Peter Hyde of the Blue Moon Bistro in Dennis, the Mesquite Barbequed Misty Knoll Chicken was served with a Late Harvest Tomato BBQ sauce. The chicken on the bone was cooked perfectly, tender and moist. The sauce was more along the lines of a sophisticated smoky jazz club, rather than an out-of-the-bottle tailgate party.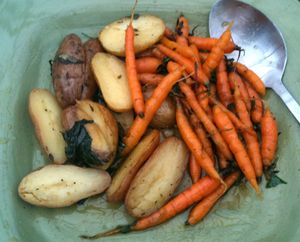 Who knew potatoes and carrots would draw raves from our group? After tasting the Blanched Herb Coated Carrots and the herb Roasted Potatoes prepared by Jerome Watkins of Lyric in Yarmouthport, the verdict was in! The baby carrots from Cape Cod Organics were sweet and tender. The potatoes rich, moist and creamy. These seemed in a bit short supply and we were hard pressed to share. 
Jerome also prepared a salad of mixed greens and Pepperade, tossed with a garlic Vinaigrette with Shy Brothers Hannabell Cheese.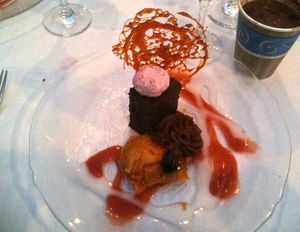 And finally, when it seemed there was no more room, no possibility of another course, we were treated to the creation of the savant confectioner, the Mad Hatter of the truffle, the guru genius of dessert, Chef Paul Olaf Lively. Dashing about the greenhouse in his custom made blue linen chef's coat (with tails), Chef Paul first served a chocolate beverage that defies description. Thick with chunks of sweet vegetables, it was almost a cocoa soup. This would have sated most human needs for dessert after such an incredible meal. Paul, his status as mere-human in question, then regaled us with an architectural confection that featured a Bittersweet Chocolate Cake Tower with Black Mission Fig-Red Onion Jam, Bittersweet Chocolate Peppermint Infused Mousse, and  Strawberry-Passion Fruit Syrup. All topped with a Blood Orange Heirloom Smoked Tomato Truffle. The collision of flavors and sweetness was wonderful, intoxicating, and overwhelming. A flamboyant finale to an amazing meal. 
The event was attended by over 65 people, and it shows what can happen when passionate producers such and the farmers and chefs who provided tonight's meal host a willing, open, committed group of consumers who revel in good (great) food, grown with care in our own community (clean) by farmers who receive fair compensation and recognition for their work.