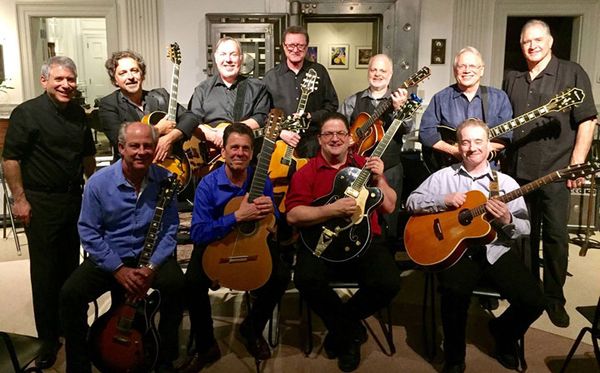 Back: Bart Weismann, Pat Ryan, Bert Jackson, Alan Clinger, Gary Gross, Steve Hambleton, Ron Ormsby. 
Front: Paul Good, Fred Fried, Andy Troyanis, Gregg Sullivan 
On May 28, 2017, the Cultural Center of Cape Cod hosted the Jazz Guitar Summit, organized by Bart Weismann. The event featured nine jazz guitarists living and working on Cape Cod. The concert featured performances showcasing each guitarist, as well as an ensemble for the finale. We still don't know how many guitarists it takes to change a lightbulb, but we do know nine great players can come together to make wonderful music. Bart and Ron Ormsby filled out the ensemble with drums and bass.